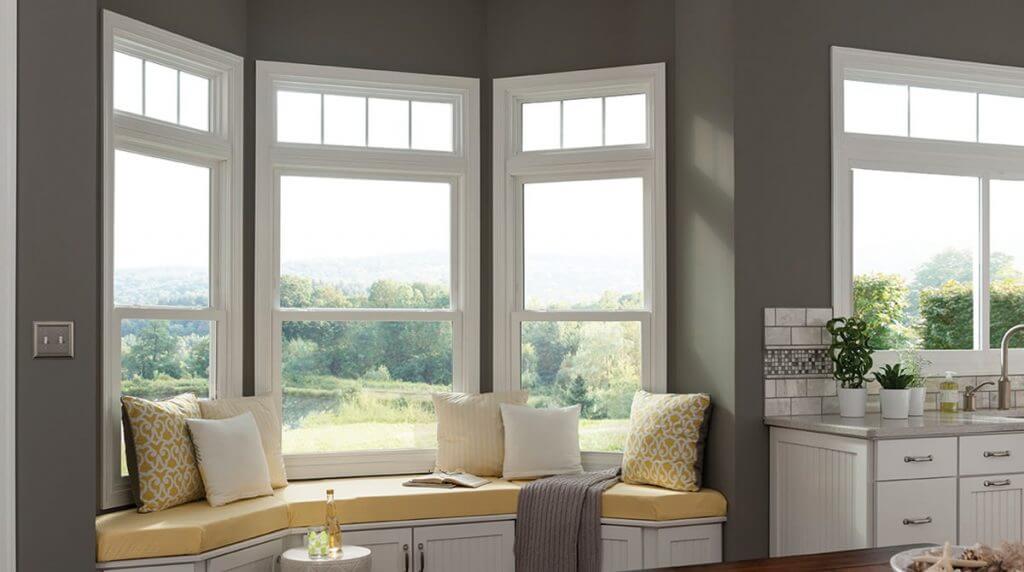 Window designs have evolved throughout time, and homeowners now have a wide range of alternatives. Are you seeking a combination of old-world charm and modern convenience? Perhaps it's all about energy efficiency or keeping out the noise that piques your curiosity…
These days, window designs come in a wide range of forms, sizes, colors, and materials–vinyl is quite popular, but wood still holds its own against other materials. When choosing the ideal window design for your house, keep aspects like budget (cost versus durability), stylistic preferences, and practicality in mind.
Sliding and double-hung windows are two of the most popular alternatives among homeowners. These two are available in the same window materials, but the window styles and features differ. Let's look at the differences between sliding and double-hung Windows replacement to answer the question "what to pick between sliding and double-hung windows replacement?"
Double-Hung Windows
A double-hung window has two moveable sashes. To open, move the top sash downwards and the bottom sash upwards. Warm polluted air exits the home through the top window, while cold and fresh air enters through the bottom window, making these replacement windows an excellent choice for ventilation.
Because both sashes are tiltable, cleaning is a breeze. Double-hung windows are available in a variety of window materials, including wood, vinyl, fiberglass, and aluminum. The custom-tuned balancing systems provide for smooth sash movement and simple window operation. Keep the bottom sash closed to prevent dogs and youngsters from jumping outside.
Sliding Windows
Sliding windows give great ventilation while also allowing in plenty of natural light. They have two sashes that slide horizontally, allowing both to be open at the same time. This layout allows more air into your home and takes advantage of a cool summer breeze. They are also often much larger than double-hung windows, making them ideal for a picture window in your living or dining room.
 These are the windows you want to put in long yet low-ceilinged spaces. It is easier to shift the sash sideways than to raise a large window. They are also ideal for difficult-to-reach places where you must extend to open a window and struggle to slide it up or draw the top sash down. If they were erected within the previous decade, windows over the kitchen sink or bathtub usually move. Sliding windows offer a minor advantage in terms of efficiency since they have a tighter seal and fewer moving components.
What is the Best Placement for Each Window Style?
Cleaning & Maintenance
There are several advantages to washing your windows on a regular basis. Cleaning a single-hung or double-hung window from the inside is simple: spritz the glass with a vinegar and water cleaning solution and wipe clean with a microfiber or lint-free cloth. Wipe the window frames, hardware, and surrounding trim with a damp cloth. Pella windows include tilt-latches that allow you to tilt the bottom sash in toward the home to clean the exterior of the bottom sash of a single-hung window. While standing inside, clean the outside of your single-hung window. To clean the top sash of a single-hung window, start from the outside and work your way in.
Ventilation
Single-hung and double-hung windows can provide sufficient ventilation for your home. The most significant difference in ventilation is the added flexibility provided by a double-hung window over a single-hung window. You may open the top sash, bottom sash, or both sashes of a double-hung window to enable air to flow into and out of your home. A single-hung window ventilates your home by allowing just the lowest sash of the window to open to allow circulation.
Energy Efficiency
Both types of windows are designed with energy efficiency in mind, but the frame material adds an extra degree of efficiency. Vinyl and fibreglass windows have multi-chambered frames that serve to restrict heat flow. This will keep your house cool in the summer and warm in the winter. Fiberglass single-hung and double-hung windows are available with insulating foam as an option, making your house more comfortable all year. Furthermore, wood single- and double-hung windows are constructed from a natural insulator, which helps to enhance the efficiency of your home.
Installation
Depending on the product line, single-hung and double-hung windows are offered with a range of installation kinds and methods. Both types of windows may be utilized in new residences as well as replacement or remodeling projects. Pella provides complete installation instructions as well as information on how to install the windows yourself. As you labor to install your windows, remember to consider the seal surrounding your windows, which helps to protect your property from wind and water. Shimming is necessary to establish an optimum seal between the weather-strip and the frame, which helps to safeguard your home.
Benefits of Sliding Windows
Sliding windows are easy to maintain since they are simple in design. This allows you to maintain your sliding windows for a long period with minimal maintenance. Sliding windows also offer excellent ventilation and clear views.
Sliding windows are ideal for creating a focal point in an otherwise empty room, and they look great in living and dining rooms. When closed, they give seclusion and also block out sunlight. Sliding windows are ideal for providing air, natural light, or a calm, melancholy mood in a space. Consider installing a sliding window if the width of your window space is bigger than the height.
 Sliding windows, on the other hand, do not seal as well as double-hung windows. If you reside in a very cold region, you may notice that your sliding window has a small gap through which chilly air may enter your home. These windows may also squeak and accumulate dust fast. However, regular cleaning and investing in expert installation might help to mitigate these difficulties.
Benefits of Double-Hung Windows
Double-hung windows are ideal for window areas when the height exceeds the width. They need a more accurate installation method than sliding windows. These windows are stunning additions to any patio, living room, walkway, or any place where you can show off your new double-hung windows.
Large double-hung windows, on the other hand, can be a safety issue for small children since they are simple to open and climb out of. This risk can be reduced by installing locks on your double-hung windows. These windows also require routine maintenance to keep their springs and sash cords in good working order.
About the Author:
David composes for points like Home Improvement, Kitchen stylistic layout, Garden or travel-related themes furthermore; he has an enthusiasm for the metal structure industry for over ten years, Kylo has become an accomplished structure expert in this industry.
He will probably assist individuals with his huge information to help them with his best recommendations about various Home Decors, for example, Doors Replacements, Siding, Windows replacements, Siding contractors, and business structures.
Must Read : Sliding vs. Double-Hung Windows: Which Option is Best for Your Home?