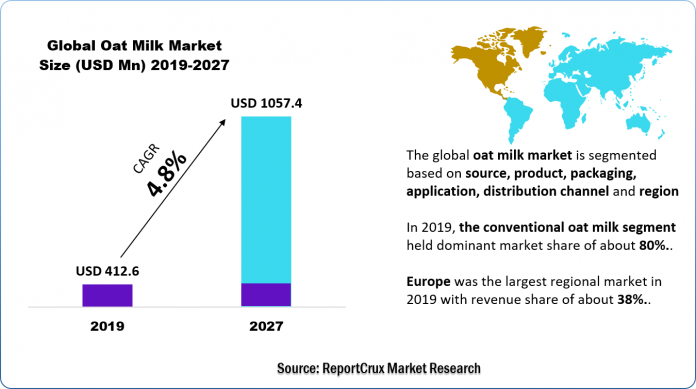 ReportCrux Market Research has published a Latest report titled Oat Milk Market By Product (Plain, Flavored), By Source (Organic, Conventional), By Application (Food, Beverages), and by Region: Global Industry Trends, Dynamics, Competitive Insights and Forecast Analysis, 2020 – 2027″.
Oat Milk Market Size
Global Oat Milk Market was valued at about USD 412.6 Million in 2019 and is expected to reach value of USD 1,057.4 Million by 2027 growing at a CAGR of 12.5% between 2020 to 2027.
Request for Sample Report:
https://reportcrux.com/request-sample-report/Oat-Milk-Market
Market Overview
Oat milk is plant derived milk. Whole oat (Avena spp.) grains are used to extract milk with water. Oat milk has a creamy texture, comparatively neutral or oatmeal-like flavor. It is available in various forms such as sweetened, unsweetened, vanilla or chocolate.
Plant-based milk alternatives such as oat milk, almond milk, soy milk have witnessed a noticeable growth in last few years. The demand for oat milk is driven by increasing trend of veganism, growth in diversity in plant-based beverages and increasing prevalence of lactose intolerance and milk allergy.
A pronounced economic crisis in dairy industry as a result of overproduction and decreasing consumer demand also boosts the oat milk market growth.
Segmentation Analysis
The global oat milk market is segmented based on source, product, packaging, application, distribution channel and region.
By Source Type
Based on Source, global oat milk market is segmented into Organic and Conventional. In 2019, the conventional oat milk segment held dominant market share of about 80%. This large share is attributed to the fact that relatively low price of oats used to manufacture conventional oat milk as compared to organic and is also majorly used for industrial oat milk production.
But, in the coming years organic segment is projected to register fastest growth rate as a result of growing health consciousness among consumers, inclination toward pesticide-free grown and non-GMO products and rise in consumer spending.
By Product
Based on Product, the market is segmented into Regular and Flavoured. Regular (plain) category dominated the market with revenue share of about 60% in 2019.
This large share is particularly attributed to increasing use of plain oat milk at coffee shops such as Starbucks and Dunkin Donuts. A large demand is observed in last few years for plant-based milk as an alternative to dairy milk through retail coffee chains, which is driving the market growth.
By Packaging
Based on Packaging, market is categorised into Cartons, Bottles and Others. Carton segment held maximum market share in 2019. Cartons are most widely preferred form of packaging as cartons are convenient & safer to use for consumers, and also allow providing a longer product shelf life and incurring lower transport costs.
By Application
Based on Application, the market is segmented into Food and Beverages. Beverages was the largest application segment in 2019. Increasing use of oat milk in retail coffee chains, growing demand for lactose free milk products has boosted demand for oat milk in beverages.
By Distribution Channel
Based on Distribution Channel, market is categorized into Supermarket & Hypermarket, Grocery Store, Online Retail and Others. The Supermarket & Hypermarket segment contributed for the maximum share in the oat milk market in 2019.
This is attributed to high visibility and attractive assortment of plant-based products provided by Supermarket & Hypermarket to consumers. This allows consumers to discover new variety, compare products and pricing and understand the labels as well.
Online Retail channel is expected to register fastest growth in the coming years as a result of increasing penetration of e-commerce platforms in both developed and developing regions.
Oat Milk Companies
Califia Farms, LLC
Hain Celestial (Dream)
Pacific Foods of Oregon, LLC. (Pacific foods)
Danone (Silk)
HP HOOD LLC. (Plant Oat)
Cereal Base Ceba AB (Oatly)
Elmhurst Milked Direct LLC
RISE Brewing Co.
Happy Planet Foods Inc.
Regional Analysis
At regional level, market is segmented into North America, Europe, Asia Pacific, Latin America and Middle East and Africa. Europe was the largest regional market in 2019 with revenue share of about 38%. This is due to huge popularity and extensive consumption of plant-based beverages in this region along with growing trend of veganism.
Asia Pacific is expected to grow at the fastest CAGR due to increasing demand in highly populous countries like India, China, increasing health consciousness and increasing consumer spending.
Are you Looking for Regional Insights / Report Customization?
https://reportcrux.com/request-customization/Oat-Milk-Market
Oat Milk Market Segmentation
By Source:
By Product:
By Packaging:
By Application:
By Distribution Channel:
Supermarket & Hypermarket
Grocery Store
Online Retail
Others
By Region
o U.S.
o Canada
o Rest of North America
o UK
o Germany
o France
o Italy
o Spain
o Russia
o Rest of Europe
o China
o Japan
o India
o Australia
o Southeast Asia
o Rest of Asia Pacific
o Brazil
o Mexico
o Rest of Latin America
o Saudi Arabia
o South Africa
o UAE
o Rest of Middle East and Africa
Table of Contents
Preface

Market Introduction
Definitions

Research Methodology

Research Methodology
Research Models
Data Sources

Executive Summary and Snapshot
US Oat Milk Market Price and Cost Trend Analysis
Market Growth Attractiveness Analysis
COVID-19 Impact Analysis on Industry

Restrictions due to COVID-19
Demand-side Constraints
Supply-side Constraints

Post COVID-19 Industry Dynamics
Post COVID-19 Industry Recovery Path Analysis
Industrial Chain, Sourcing Strategy and Downstream Buyers

Upstream Raw Materials Sourcing
Industrial Chain Analysis
Downstream Buyers
Market Dynamics and Industry Analysis

Introduction
Market Drivers
Market Restraint
Market Opportunity
Porter's Five Forces Analysis

Trending Insights on Current Market Scenario

Current Market Trends
SWOT Analysis
PESTEL Analysis
Technology Trend Analysis

Competitive Share Analysis

Company Share Analysis
Strategic Developments
Supplier Benchmarking

US Oat Milk Market: Source Type Segment Analysis
US Oat Milk Market: Product Segment Analysis
US Oat Milk Market: Packaging Segment Analysis
US Oat Milk Market: Application Segment Analysis
US Oat Milk Market: Distribution Channel Segment Analysis
Company Profiles
Report Conclusion
Browse Full Report Access here:
https://reportcrux.com/summary/6943/Oat-Milk-Market
About Us:
ReportCrux is a global market intelligence aggregator and publisher of market research reports, business information reports, economic and equity reports. We cater a diverse range of industrial sectors along with niche domains and sub-domains within the industry. We offer exclusive blend of cutting-edge market insights for the critical business needs.
Contact us:
Name:Ms. Samantha M.
Email: samantha@reportcrux.com
Website: https://reportcrux.com/
Phone:+1-888-526-5515 (US/Canada), +91 89561 57215 (India)