Hiring a contractor for any kind of a job is a difficult task and it can sometimes be very tiresome. This particular job becomes all the more laborious when you want to demolish a construction. A demolition contractor basically works to demolish or dismantle any existing business or home. There might be various reasons as to why a structure is being demolished: the building might not be safe anymore for people to reside in it, or due to insect infestation or some serious kind of damage due to some natural calamity such as hurricane, earthquake or tornado.
A demolition contractor knows exactly how to demolish the structure which means that he has thorough knowledge of where exactly to place the explosives and what beam is to be pulled so that the building collapses. However, there are certain points that you need to check and look out for in a demolition contractor before giving him the job; if you follow these tips and guidelines well when hiring a demolition contractor then you will be saved from a lot of unnecessary harassment and tension in the long run. So in this article all those guidelines and points have been described, which you should follow and keep in mind before hiring a demolition contractor.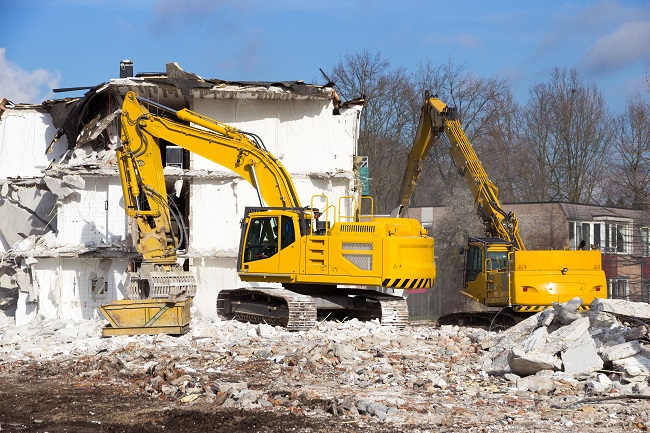 Points That You Should Keep In Mind While Hiring A Demolition Contractor
The very first thing that you should do on your part is to plan out the project really well and thoroughly. You should start by first chalking out the work that you want done first. You need to gather up all the necessary information that your contractor might need to know and these details can include how big the size of the house you want to demolish is, and what the materials used to build the house were, and if you are interested in keeping your foundation or not.
A very important thing you should keep in mind before you get into any kind of venture is to get the quotations and estimates right and in this scenario it is all the more necessary. You will not only compare the bottom line cost but also the experience of each contractor and how well are they equipped to do their job and how well they know about the detailed nuances of the job. You should also take the feedback from the customers they have served before and compare those and the time they will take to complete the project.
The most important thing is you should get the license of the demolition contractor verified and checked. You need to know about the state's laws on licensing and if it is mentioned in the laws that a license is a must then do make sure your contractor has a legit license. Make sure the license number is listed on the website or the web page or on the contractor's social media and if it is not then the first page of the contracts should show the license number.
This point is a very obvious one but will still be stated and emphasized on and that is, there should always be a written contract with a demolition contractor. The contract will highlight these points: the work that is to be done and the equipment and materials that will be used and the payment details and the duration of the project. If all these points are highlighted in the contract only then will it be valid and before signing on it, make sure that you are thorough with whatever it states and agree to all the terms and policies.
Demolition is a very tedious and difficult job and you can rely only on trustworthy people for this job. To find such trustworthy a demolition contractor, it is important you follow all these guidelines mentioned above and always be very cautious and attentive. In that way you will get your job done easily and effectively.