Kitchens are the centre of every home, and that is why it is essential to design this place in a way which is more comfortable and inviting to the whole family and guests as well. It's not just a place of the family to gather, it's the focal point when your friends come over so don't forget to add a touch of your personality in your kitchen to give it a unique flair.
In between area of your countertops and the bottom of your cabinets draws a lot of attention and can be a centre of your kitchen renovation. The backsplash is both functional and decorative and deserves a lot of consideration when you are designing your new kitchen.
Make Your Kitchen More Hygienic Place
The backsplash is designed to protect the walls from water, grease, and other cooking foodstuffs that can damage a bare drywall surface. The backsplash should be a minimum of 4 inches above your countertops, but for an elegant look, the entire area between the counter and cabinet should be covered by your backsplash material.
The waterproof surface of the backsplash not only protects the wall surface from damage, but it also makes your kitchen more sanitary by limiting the growth of mould and mildew associated with waterlogged surfaces. You have a wide variety of choices for your backsplash material when you remodel your kitchen.
It is crucial that your backsplash choice complements both your countertops and cabinets to display a consistent theme to your kitchen. The backsplash should tie the design elements of your kitchen together, and if it doesn't, the entire feel of the kitchen just won't be there.
Earth-Nature Themes
Using rough, natural stone tiles in earth tones will give your kitchen an 'Old World' feel. Combined with natural wood cabinets and slab granite countertops, your kitchen will have an elegant feel to it.
For a more contemporary look, a sleek, stainless stain backsplash coupled with clean, smooth-faced cabinets and a Corian surface countertop will fit the bill. Hand-painted tiles to create a pattern or mural on your backsplash will give your kitchen a country or Mediterranean feel. This means you can use glass for the interior and exterior of home without any problems.
Effortless Blending
Glass block, metal sheets, or even cork can be other options that you can use for your backsplash material. You can be as extravagant or simple as you want with your backsplash material and design. If you are on a tight budget, there are a couple of ideas that you should consider. A cheap way to protect that a backsplash provides your walls is a waterproof, vinyl wallpaper backsplash application.
If you want the look of any more traditional backsplash, you can install your backsplash on the wall behind your sink only, and not worry about the surface on the other wall of your kitchen, or add the backsplash to those walls as your budget allows. Because of the way of the blend, you can get the glass for the interior and exterior of the home without any problem.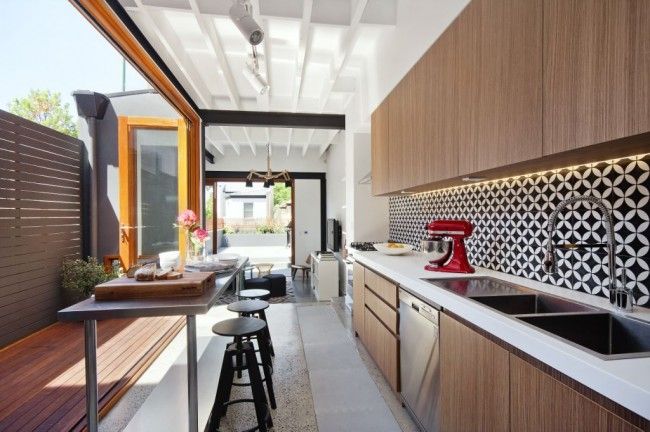 Creating A Mosaic-Style Kitchen
Creating a mosaic style kitchen using backsplash is no easy feat. You need to know how to install backsplash first and also how to make sure it blends effortlessly with the surroundings. You need a lot of specialized tools to get the job done. However, the backsplash is also a very artistic material to work with. You can create a beautiful kitchen with lots of colour and spice.
This means that the tiles can be cut evenly or unevenly mostly dependent on where they will be installed. Those that are installed in an indoors kitchen most of the time look neater when they are evenly cut. However, you must know how to install backsplash properly. The homeowner can then use different colours but ensuring they blend together well.
Add A Twist With Tin
Unlike many years ago when tin was one of the most valuable materials in the world, it's very cheap these days. You can simply get some faux tin sheets and use them as a tile replacement in the tiles in the kitchen. Especially for the areas where there is a lot of water and spillage, tin is a welcome material given that it's waterproof and can last for a very long time. Using their water-resistant nature, they blend effortlessly in the kitchen and give a nice aura.
Play With Colors
Mix and match option will help you to give a new look to your kitchen. You can use tile of the same size to cover the whole tile, or you can use tiles of different colours to cover the wall of your kitchen. You can use the traditional way of designing your kitchen, or you can use the modern way of designing your kitchen the choice is yours.
Both methods would help you to give a different look to your kitchen. These tiles would help you to provide an exclusive look to your kitchen, and all will admire this exclusive look. These tiles would help you to fulfil your dream about the beautiful and unique kitchen. Thus, these tiles would help you to give a new look to your dream.